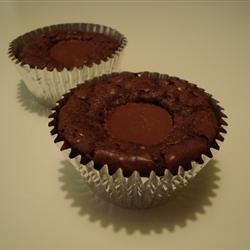 Oh boy, get ready to satisfy your sweet tooth with this recipe! If you are a big fan of chocolate and peanut butter, then this is the recipe for you. It's definitely not low-fat, but a great treat for every now and then. Of course you can adjust the recipe to suit your needs (you can use the tiny peanut butter cups - the ones that are already unwrapped in a bag - and a mini muffin pan for a smaller version of this delicious recipe). Ooh and I just tried one heated for about 20 seconds in the microwave with a scoop of vanilla ice cream - whoa yumminess! Enjoy!
Ingredients:
2 packages of brownie mix
1/2 cup vegetable oil
6 tablespoons water
2 eggs
24 miniature peanut butter cups, unwrapped
Makes about 2 dozen brownie cupcakes.
Directions:
Preheat oven to 325 degrees.
Combine brownie mix, oil, water and egg in large bowl and stir 50 strokes with a spoon.
Place batter in a cupcake pan (I used cupcake liners for easier cleanup). Once cups are about 3/4 full, place an unwrapped mini peanut butter cup in the center and press down in the center of the brownie.
Bake 30 - 35 minutes, but keep an eye on the brownies.
Cool them down and get to eating!!! YUM!
Nutritional Information
Peanut Butter Cup Brownies
Servings Per Recipe: 6
Amount Per Serving
Total Fat:

31.7g

Cholesterol:

37mg

Sodium:

374mg

Total Carbs:

85.2g

Dietary Fiber:

3.9g

Protein:

7.4g